Ok, so the other night I uninstalled my R2 install on my box and put on the new SQL2012.  I know upgrade exists, but I just wanted the thing on there and didn't feel like messing with anything stupid going wrong.  So anyway, I was half way through my uninstall when I remembered, Oh Crap, I'm gonna lose SQLPrompt cause SQL2012 just came out.  I was pretty upset because I use that tool all the time.
So While Denali was installing, I went out to Red-Gate to see if they had it listed anywhere when SQLPrompt would support Denali… and you know what?  It already does.  I installed the newest version and it works beautifully in SQL2012.  And that's not all.  They've got this kewl new thing they're doing where they let you see beta features.  They call it Experimental Features and it's at the bottom of the SQL Prompt 5 menu.  Here's what it looks like.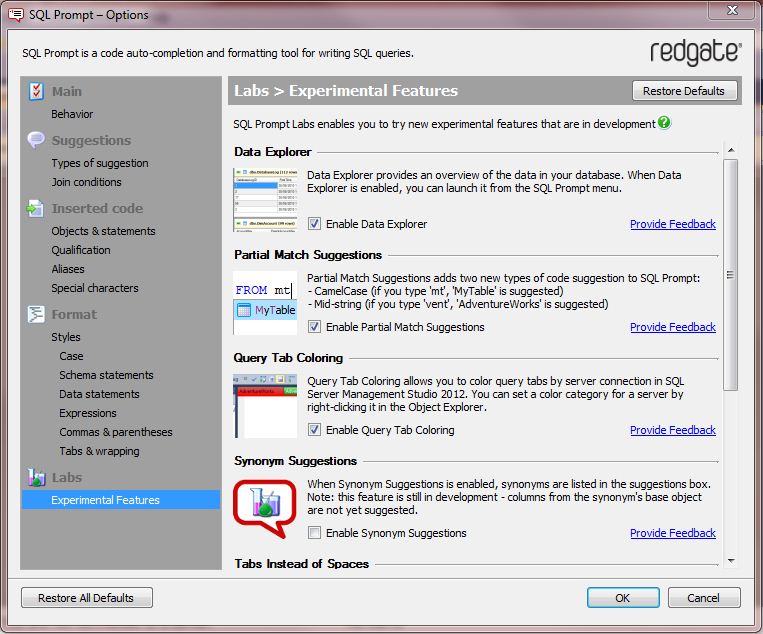 These are beta features and you're welcome to install them and try them out as you wish.  Personally I love this because I quite often want stuff like this and even if there are a couple bugs it's still better than not having it at all.
So Red-Gate, I salute you for having this ready in time for the release and for doing such a good job with presenting us with these new features.  I want to have your babies.