Okay, let me start by saying you, my internet friends, are so full of #win and #awesomesauce that I could cry. I won't, but I could. 
First, our dear friend Jorge (of SQLChicken blog and Twitter fame, and dean of the FREE and ongoing SQL University) bought a MidnightDBA mug, and showed it off online: 
Then mister MikeSQL (blog, Twitter) chimed in: "I heard the @MidnightDBA mug makes coffee taste like #awesomesauce".  Oh, it does Mike. It does. And it's not because of lead paint, SQLRunner! 
So it's a good morning so far. Still lots going on, but you know, I'll be glad when May is over, the fun is done and sessions are submitted to SQLPASS. Maybe then I can get back to making actual SQL videos, in addition to all the fun stuff.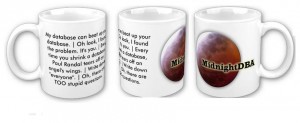 Speaking of May, here's the rundown, in chronological order: 
The new DBAs @ Midnight, "Recompiling and Parameter sniffing" is out! We're on a regular schedule now: film a week in advance, release on Monday. And in a couple of weeks we'll start live streaming the web show on Friday nights.
Our Get a Celebrity to Tweet About MidnightDBA Contest is…..fizzling! I haven't had one entry yet. Come on guys, you can't get one lousy B-list actor or singer to give us a shout-out? We'll even take Carrot Top at this point!
The NTSSUG meeting is next week. Brad McGehee is our speaker!
Immediately thereafter starts 24 Hours of PASS, which I'm really looking forward to. Register, and be sure to check out Sean's midnight session.
Almost immediately THEREafter is SQL Saturday #35 Dallas, which is fully funded, fully stocked, and fully going to have ICE CREAM from Paciugo in the afternoon.  #awesomesauce indeed.
Here as promised is the preview for next week's DBAs @ Midnight. Please to enjoy! 
And for your "OZAAAAAAAAR" moment, here are some pictures of a man singing along to Lady Gaga. 
Happy days, 
Jen McCown