I have blogged before about the feeling of accomplishment I get from completing an episode of the MidnightDBA blogcast, because it's mine start to finish. Once the file is up and the XML feed is updated, I check the page to be sure it works properly, and I feel GOOD. I made something. I did something cool, and it's out there for whoever wants it. 
Saturday, May 22, I felt that I-made-it feeling, but it was x100, because WE MADE IT, and it was big. We made a SQL Saturday, and it was full of nothing but smooth, rich #awesomesauce. 
The Planners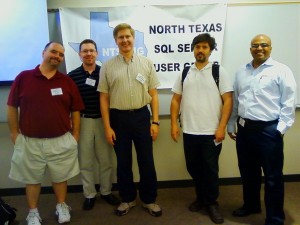 The NTSSUG board started planning a Dallas SQL Saturday, and a couple more people came along for the ride. Trevor Barkhouse (@SQLServerSleuth), Sri Sridharan, Tim Mitchell (@Tim_Mitchell), Sean McCown, Erin Welker, and I started planning SQL Saturday 35 Dallas back in late 2009.  No, seriously…the first email I have about the thing is dated mid-September, and the "initial thoughts" discussions started well before that.  Along the way we picked up David Stein (@Made2Mentor), Ryan Adams (@RyanJAdams), Vic Prabhu (@SQLJackal), and Ganesh Gopal.  Andy Warren (@SQLAndy) was our mentor and guide, and we really can't thank him enough for all the help along the way. 
Each one of us covered a critical role – some more than just one role – and each one played their part well.  Side note: I was honestly shocked to look back and see how little conflict we had within the group – planning by committee always gets ugly at some point, but we seemed to have none of that.  
The Planning
We took all the advice we could get, starting with the official SQLSaturday.com guidelines, and including any lessons learned and wrapup blogs from other SQL Saturdays. One early article that was very helpful was Patrick LeBlanc's Top 10 SQL Saturday Coordination Tips. 
Early considerations included date (avoiding conflicts with other nearby events, holidays, and the Superbowl) and venue. Once we had the venue nailed down, we jumped on the sponsor plan. My main job was the sponsorship doc and getting sponsors. I modeled our sponsor plan off of a couple of other SQL Saturdays', and then I started seeking out sponsors. We had a good combination of sponsors from established lists (like PASS), local companies, referrals from group members and community folk, and out-of-the-b0x companies.  Paciugo gelato was a sponsor because of the great discount! You ask for it, you got it… 
After we set the event date in stone, we opened the call for speakers.  And talked to hotels and party venues.  And looked into event flyers and signage and websites and catering and sponsor swag and bags and attendee registration and attendee gifts and speaker shirts and sessions and agenda planning and how to handle checkin and evaluations and how to conduct the raffle and and and and….how did we get this all done, again? Oh yeah, with a LOT of time, several dozen calls and several hundred emails, and the help and goodwill of a LOT of people who asked for nothing in return. 
We made this. 
The Day Of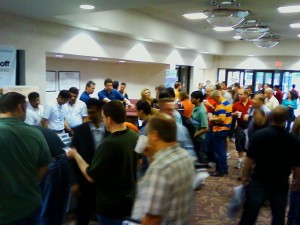 The week before SQL Saturday 35 was insane for me and Sean. We closed on a house, moved, worked, took care of kids, took care of final event prep, prepared our own sessions, prepared for the webcast, all while working. And my Mom, my #1 babysitter was out of town. And my backup babysitter had a family tragedy on Friday afternoon.  THIS is what I call a "center of the universe" week, where every single thing comes together in one tiny singularity and sucks everything into itself. It still managed to be a pretty good week. 
The morning of SQL Saturday, I arrived with children in tow, and found that Sri's wife had HER children in tow. This was awesome, as they got to play together as I watched and monitored the first hour of the event.  Through the kindness of loved ones, my little'uns had places to go, and I checked in on operations and then got ready for my session.  It was an 11am Code Sins session that was well attended, and overall went very well. I got some really good feedback from attendees, gave away some swag, and a good time was had by all.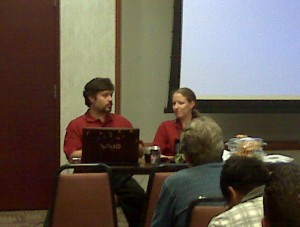 Immediately after was lunch.  Each of the big vendors was conducting a lunch presentation in a room, and there was a nice room left over for our big event-within-an-event: Sean and I filmed an episode of our DBAs at Midnight webshow at SQL Saturday 35!  The preview's up on youtube, and the show itself will be on www.MidnightDBA.com next week.  We had a LOT of fun during this, our very first ever live webshow, and we got a lot of good feedback, again. 
Second only to that SQL Saturday feeling of We Made This, is the feeling we got throughout the day at the event as people talked to us, commented on the webshow, talked about the videos, and said how much we helped them. One guy actually told Sean, referring to a recent how-to video, "Man, you saved my LIFE."  
You guys are reading, and telling us what you like and what you don't. We put ourselves out there, we put a lot of work into the site, and it's helping people. That's why we do all this, all joking aside. We want to help, and so many people said thank you.  We've got the major warm fuzzies because of it, so THANK YOU to everyone who came up to say hi, who talked to us like we're lifelong friends (because you know us through the show), who gave us stories about how we've helped, who said you enjoy the web show. 
To Be Continued…
This is already long, and I've got to get back to work, so I'll make this a two parter. In the next episode, lunch, gelato, sessions, feedback, after party, and HUMONGUS WARM FUZZIES ALL ROUND! 
Happy days, 
Jen McCown