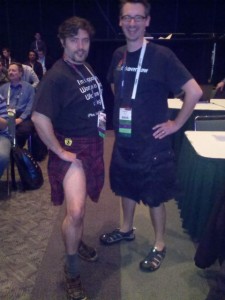 I'm live blogging the PASS keynote…it's 9:37 local time.   
Here's the PASS website description of the day 2 keynote …we had no surprise celebrity impersonators today.  Initial notes: 
Bill Graziano is NOT, repeat, NOT wearing a kilt.  He had the kilted stand up…nearly the entire bloggers' tables, and half a handful elsewhere. 
Talking about making friends year after year…oh yeah, this is SO summer camp. Love it. 
Just had chapter leaders, board members, SQL sat organizers, and other speakers and volunteers stand and be recognized. I'm getting the warm fuzzies here.  Awards (the PASSion Award goes to @wendy_dance), governance and financials (one ironic cheer there). 
Wednesday's to do list : #WIT luncheon at 11:30, exhibit hall, PASS to prizes 4:15pm, tweet the action #sqlpass, sqlpass.org/na2010 
And now Quentin Clark, GM DB Systems Group: 
@Kendra_Little: Microsoft wants to see your Dance Dance Revolution skills tonight in your skirts, I mean kilts, at Gameworks. #sqlpass 
Introducing Denali…. 
…….. 
…….I'm going to go ahead and say it: Too many buzzwords, not enough demo. 
@BuckWoody:  These aren't the folks for that. There are several folks that want the "vision" statements, and this is that.
Me: I know, but I'm sensing a LOT of attention wandering… #sqlpass
@MJSwart: You don't get warm fuzzy feelings when told that MS enables us to increase synergy?
@BrentO: I picked the wrong keynote to quit drinking coffee. #sqlpass #airplane
@SQLBelle: ADD acting up. Want demos – colors and animated graphs please! #sqlpass
@Wendy_Dance: TCO, Pillars of the Platform, I guess if you missed yesterday's Keynote, you're caught up now. #sqlpass
 @sqlbelle: iPad needs to stop autocorrecting #denali to denial #sqlpass
….[many, many, MANY more tweets complaining about the boringness and begging for demos.]
Me: Nerds, stay strong…the demos are coming. In the meantime, this is exactly why God invented WiFi. #sqlpass
Uh-oh…the muttering has begun. 
And now, Gopal Ashok, SQL Server Product Manager: 
Mission critical db with HA SLAs – quickly and automatically fail over to another server in same datacenter, and also ability to do so to another offsite server, AND to have a DR site in another city. 
integrated into SSMS. Always On lets you create an "availability group". Wizasrd to create an availability group.  Replica modes: auto failover primary, automatic failover secondary, manual failover secondary, asynchronous (for the other city setup). "Every instance that I'm picking right now are standalone instances." Always on allows you to use shared disk if you want to, but you don't have to. 
"I can pick any of these examples and make them readable." Secondary query workloads. You can offload your backups to your second (replicated) readable server. Applause…somebody says "Cool!" 
The always on dashboard gives you a visual of the configuration. "It looks kind of unhappy right now." "It is unhappy, I havent' started the synchronization yet." 
Editorial: Of course this looks super easy, and it's very cool. But it definitely begs the question, how much work does it REALLY take? How many gotchas are there behind the cute and cuddly wizard? 
BrentO: Coolest word to hear during a demo: "Oops. Uh, that's by design." hahaha, great recovery. #sqlpass
Me: Hahaha….from the trenches: "they managed to make it sound shitty, but this is THE coolest version in Denali". Well, okay then.
And of COURSE Brent Ozar has already blogged 4,000 (approximately) words on this here. 
Introducing Rohan Kumar, Principal Group PM SQL Server RDBMS 
"The benefits of storing files inside SQL Server." – The blogger table raises their collective eyebrows. Then he opens a command prompt, and nerds everywhere unconsciously sigh with satisfaction.  He just copied a bunch of files into SQL using the command line…into sql a file table. "This is true windows shell with absolutely no changes … viewing your data from the sql file table."  Once they're in the DB, you can see and double click them and view the files themselves, in a sort of preview mode. It's actually kind of cool.  Slick demo, Rohan. 
@BrentO: New feature #FileTable in Denali to make SQL Server a file server. S now we can pay $30k/CPU for file servers! Awesome! #sqlpass
@SQLRockstar: apparently, FileTable is giving us a new way to make bigger mistakes, but faster than ever before #sqlpass
@GFritchey: Enhanced file management is going to help a lot. But does it work with SharePoint?
@Wendy_Dance FileTable works with full text search #sqlpass
@SQLRockstar: wondering how we do a document level restore for FileTable, because u *KNOW* someone is going to ask for the doc they just deleted #sqlpass
@SQLChicken: You can join fileTable tables with regular tables for application purposes. Why do I feel like this may not scale well? #sqlpass
@BrentO: OH from @sqlagentman: "I've finally found a feature I hate more than DAC packs." #sqlpass #filetable
@StrateSQL: FileTable to me looks like FileStream on RedBull #sqlpass #denali
Don Box, Distinguished Engineer, SQL Server, on SQL Server Tools Codename "Juneau": 
They're moving some BI functinoality from SSMS to BIDS. "…muscle memory keyed into SSMS, we're going to be very respectful of that."  
@craniumrinse: Apparently I have muscle memory. #sqlpass
"The engine team and the tools team do talk…"  Applause up front, but one guy in front of us sneezed "bullsh*t!" 
He's designing a table in BIDS with the visual designer, which keeps in sync with the T-SQL below. You can also type in the T-SQL window and the visual designer keeps in sync. Delete columns, get errors because of cascading dependencies…this is still in the designer, so the changes haven't been committed yet. 
When you want to commit the changes, you can get a visual of the changes that will occur, and either commit them or script them out for later. Commit = Trust, Script = "Trust but Verify". 
@datachick: "You are at the altar of alter" < loving the puns #sqlpass
@unclebiguns: looks an awful lot like SQLCompare
@sql_rOk, Juneau's dependency and reference tracking is very nice #sqlpass
@sql_r: Holy crap, they finally mentioned the cloud today, I was getting the shakes #sarcasm #sqlpass
@rondba: Twitter is now the official BULLSHIT filter for #sqlpass.
@Kendra_Little: i can do cloud development UNDERWATER. #sqlpass
@SQLRockstar: RT @AaronBertrand: We are planning to make bad developers worse. Awesome. #sqlpass <– cheer up, we will be able to do it faster!
Jeff Bernhardt Principal Product Unit Manager:
He's demo-ing SSIS in Denali…looks very similar.
Major applause…he deleted a couple of package elements and then hit Undo.
@SQLChicken: Data quality services: preen data for you. SSIS getting impact analysis and lineage #sqlpass
@Kendra_Little: Everyone's so excited about ctrl-z. *WOW* #sqlpass
@BrentO: The #sqlpass room just roared into applause for getting Control-Z in SSIS. That's how bad these demos are.
@wendy_dance: Something about "Debbie the DBA" seems not quite right #sqlpass
@unclebiguns: Elton is sending Debbie his package.
@SQLChicken: View dependencies from SSIS or from actual table section in ssms (dba's rejoice) #sqlpass