In the spirit of T-SQL Tuesday, I hereby declare this Friday Un-SQL Friday. While T-SQL Tuesday is "…the SQL Server blogosphere's first recurring, revolving blog party….on the chosen [SQL-related] topic," UN-SQL Friday is a completely intermittant blog party about something SQL-adjacent. (This, by the way, sort of sums up the theme of a lot of what we do on the DBAs at Midnight webshow, but I digress.)
Your mission: To write about branding. We have spoken to a LOT of people in the past two weeks about branding, often specifically about our brand, and the thoughts they are a-churnin.  Your blog should reflect however that word strikes you – whether it's in personal/professional branding, software branding, our brand, product brands, or whatever.  I suppose if you want to be a smartass you could write about branding irons, but I'm already calling cliche on that.
Be sure to mention in your blog that you're writing for Un-SQL Friday, and link to this post.  Oh, and have it up any time before the weekend hits, mmkay?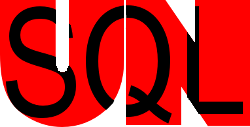 Edits: First, here is my contribution to Un-SQL Friday, Branding, my ass!  I haven't counted up, but we have something like a dozen participants who've written so far – which I'll round up over the weekend – and more are coming in.  And I'm adding this image, by Matt Velic, as the now and future logo of Un-SQL Friday.  All hail you, Matt!  Finally, please feel free to post next week and link back to this blog…I have at least one person on the hook next week, so he's happily setting the "better late than never" precedence.
Happy days,
Jen McCown
http://www.MidnightDBA.com/Jen
P.S. Adam, remember: Imitation is the sincerest form of flattery!