If you are in the Dallas/Fort Worth area Friday night, you are invited to a taping of DBAs@Midnight, the ONLY SQL Server webshow banned in Canada!
If you're interested, shoot me an email at Jen@MidnightDBA.com (if that bounces try this email) with this information: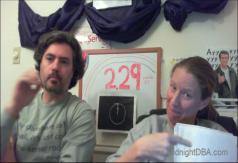 Your name
Your Twitter name
Your phone
Your profession of love for the show, or favorite show bit, or something like that. We like the attention.
Show up at our house in Irving, TX (I'll email you the address) Friday at 9:30-10pm, and we'll start the preshow just after. Taping stops at midnight, and we genearlly postshow for a half hour (though you're free to split whenever).
Oh, and if you've never seen the show, you can get a taste from the previews on our YouTube channel, or catch up on entire shows on MidnightDBA.com!
Happy days,
Jen McCown
http://www.MidnightDBA.com/Jen