Update to the update: We raised over $1,000 for ProjectCure.org via this event, which is over 1,000 kinds of awesome. Proof here.
UPDATE: The PUSS Inappropriate Sessions party is SOLD OUT! If you'd like to get on the last-minute wait list, fill out the survey below.  And if you'd like to donate to PROJECT C.U.R.E., you can do so with the non attendee donation at our EventBee event page.
Survey is over.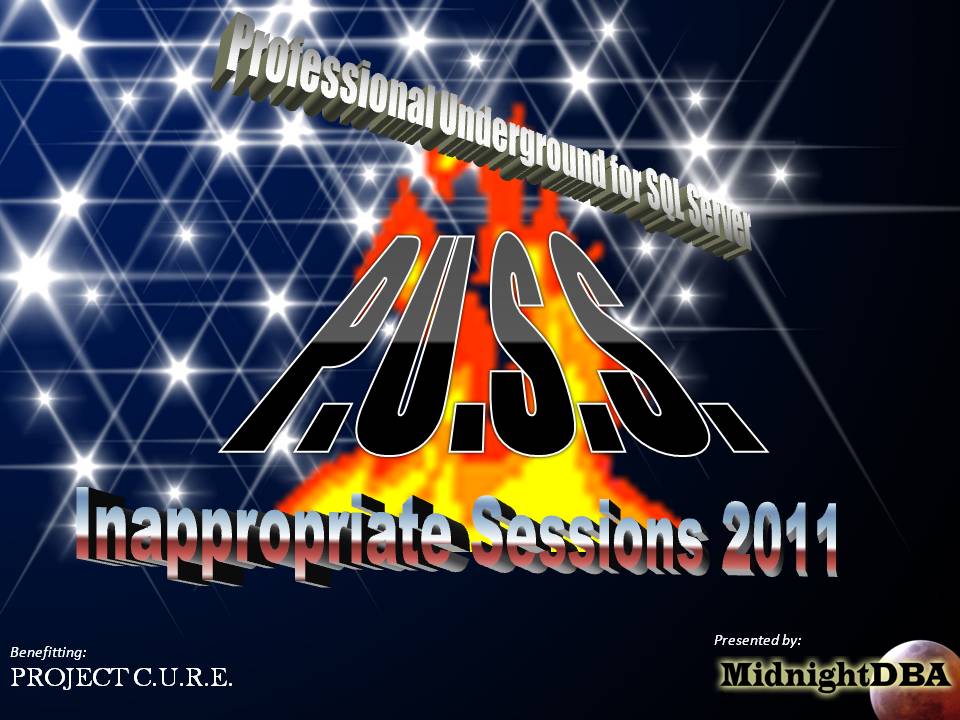 Essential information:
This is happening October 12, the week of the PASS Summit.
The event goes from 7:00pm-10pm, but the sessions themselves start around 8/8:15pm. So you can hit the PASS Summit Vendor Expo AND our party!
You can register here at EventBee.
Your registration (minus a small percentage for noms) and any additional donation you make goes to PROJECT C.U.R.E.
You should – but aren't required to!! – submit a 5 minute Inappropriate session to Jen@MidnightDBA.com
This is going to be very, very fun, and very, very NSFW.
Nonessential information:
"PUSS" stands for "Professional Underground for SQL Server". Sean liked it better than "InapproPASS".
You can register on Facebook, too…if you want. [SOLD OUT]
If you haven't taken the hint, here too is a button for you:

Edit (since it's likely to be a FAQ): We did originally have Red Gate as a sponsor, but due to unavoidable scheduling conflict we've parted ways on this event. There are absolutly no hard feelings on either side – it really was just difficulty with coordination – and I still thank them for their very kind offer!