#Meme15: On Facebook
March 15, 2012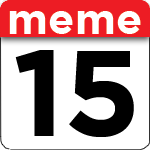 This will be my first Meme15 (here's Jason Strate's original Meme15 post), and today we're talking Facebook. The question is:
How do you balance mixing family, friends, peers, and co-workers on Facebook?
Frankly, I simply don't use Facebook much; I'm a Twitter being.  My personal Twitter account posts to Facebook, and I get email notification of replies there, so I generally check in with Facebook every few weeks (slightly more often than LinkedIn).
To answer generally: LinkedIn is essentially my resume repository; Facebook is my occasional friend-and-family checkin; an Twitter is my daily contact with the wide, wild world. 
To answer more specifically: I have family and friends on Facebook, and pictures of my kids and vacations, so I don't generally "friend" people in the IT community. I make a few exceptions for people that I'm particularly close with, but that still follows the "actual-friend-not-Internet-friend" rule.  So I do all my "balancing" up front, by ignoring an awful lot of friend requests. It's not personal, I just consider it my personal space.
Catching up
I'm really sorry (as in, unhappy with myself) that I haven't been paying attention to these, so I'll catch up on the whole series in one quick go:
Meme15 #1 (Dec 2011)
Why did you start blogging?  Because of Quest's SQLServerPedia contest. (I won.)
Why do you currently blog?  To teach, to explain and record for myself, to communicate with the tech community and friends.
Meme15 #2 (Jan 2012)
Why should average Jane or Joe professional consider using twitter? The absolutely overwhelming availability of technical and professional help and support on Twitter, that's what. Also, it's totally fun and flexible; it is what you make it.
What benefit have you seen in your career because of twitter? Tons. Lots of answers to my questions, answering other questions, discovering new events and resources, staying connected to community.
I talked about Twitter in a crappy video I made for the PASS Summit 2011 (see embedded video below) – wherein I recommended Brent Ozar's Twitter Book, explained why I'm on Twitter and what you can do with it, and showed the camera TweetDeck on my phone.
"Twitter did for the Internet what cell phones did for long-distance communication. Yeah, it's that good."
Meme15 #3 (Feb 2012)
Why and how you use LinkedIn? I used LinkedIn as the professional side of my social networking. I keep my information up to date, and check in every few weeks, but I'm not very active on it. However, I got my current job via LinkedIn (the HR people here found and emailed me.)
Happy days,
Jen McCown
http://www.MidnightDBA.com/Jen
About Jen McCown
This is my site. Details inside.