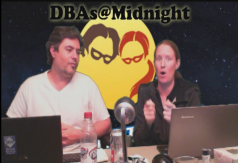 Have you been feeling lonely on Friday nights? We know we have been.
Join us for the start of DBAs@Midnight Season 6 on August 8, 11pm Central time! It's the only live weekly webshow by DBAs, for DBAs. It's the only show first banned, then unbanned, in Canada! It's the only webshow comprised of at least 20% pure fluffery!
And what's more, we promise not to sing the intro this year!
Jazzy bass music…
The teaching, ranting, coughing, blogging, talking head, techie, so you can work show!
What did you say?
You're that voice I'm hearing on the call…
…For the looongest time!
See you at http://webshow.MidnightDBA.com!
Party on, Wayne.
Party on, Garth.
Archives: http://midnightdba.itbookworm.com/Show