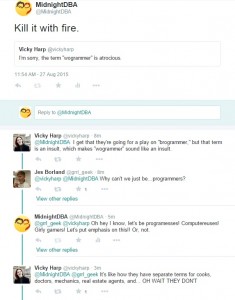 So apparently the COO of Facebook is trying to make the word "wogrammer" – a woman programmer – a thing.  (Thanks to Vicky Harp for pointing out this infuriating thing.)
I cannot stress how fundamentally opposed I am to this, new, stupidest of ideas. Why? Let's delve into a little bit of common wordage. Here are some of the things I have done in my life, and yet I am not:
A shef
A database administrateher
A drivher
A runnher
A computer useuer
A she-mathemetician
A carpentress
An authress, a technical wo-riter
Why am I none of these things? Because I don't, in point of fact, need to use my womanly parts to take part in any of these professions and hobbies. I refer you here to a related graphic, on a related topic: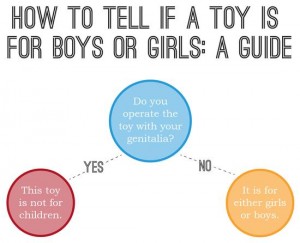 Equality? Yes. Equal pay? Absolutely. Silly that we've only had the right to vote for 95 years? Oh, yeah.
Do I want a special term that separates and isolates and from the huge male majority in my profession? No, no, no. I am a DBA. I am a programmer. Women in the profession do the same job as men, the same way.  Don't tell me to identify me as something different; I've spent all this time trying get people to see me as a part of the team.