Every year at the PASS Summit, there's at least one #SQLRun during the week – a 5k walk-or-run for folks to do before the conference day gets going. It's unofficial and community driven.
So, here are the details!
When: Wednesday at 6am – and for many folks, Thursday and Friday at 6am, too
Where: in front of the conference center, at Pike & 7th (see image below)
Where to: Down to the waterfront and back! Reference this runmeter map, and these simple directions:

we run down Pike toward the waterfront,
past the old "gum wall"
down a set of stairs
across the street
turning right on Alaska way
and turning around to go back the way we came at about the 1.55 mile mark (which falls inside Myrtle Edwards Park).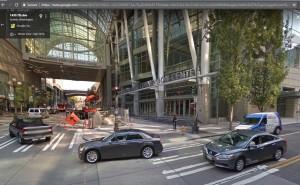 That's about it. Go if you like, run with folks you've never met before, have fun.
Questions? Leave a comment or check out the #SQLRun tag on Twitter.
Happy days,
Jen