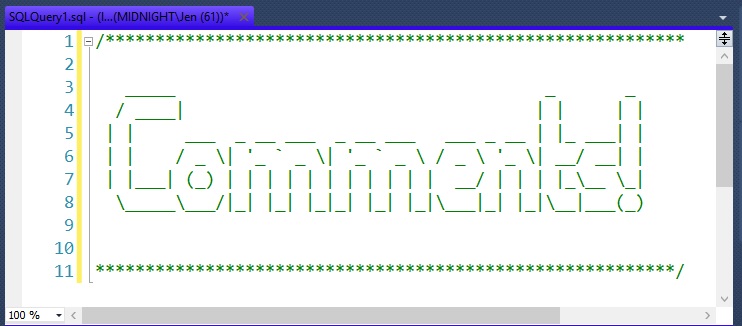 Edit: SQL Sat OKC has come and gone, but the new session on comments is recorded and up on the MidnightDBA Events page! (Direct link to WMV.)
Tomorrow (as of the blog's publish date) at8:30am, I will be teaching "T-SQL's Hidden Support Feature" at SQL Saturday Oklahoma City (totally free, did you know? Free IT training, y'all.)
I said in a recent blog about comments that this session started in my head years ago, and launched a few weeks ago when I was double-dog-dared to write it by Oklahoma City user group members.
I wrote the session in about an hour. It was that fully formed already.
WHY ON EARTH am I talking about comments, of all things? How too, too common, dahling.  Simply this: Comments give you the biggest possible ROI for code support.  Come by tomorrow (or see the recording afterward), and I'll tell you why and how. 
See me, and maybe a couple of dozen other speakers, teaching all the things SQL Saturday OKC tomorrow.
-Jen