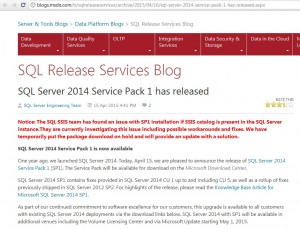 Just a brief note today to point to an article by Time Ford on SQLMag.com announcing that SQL Server 2014 SP1 has been released, and then pulled almost immediately:
The problem is there was a problem with the patch. I can't go into details until there is something formally announced by Microsoft but the MVPs were alerted to the issue overnight and shortly thereafter the URL for the download provided in that tweet from last night had been rendered unavailable for the time being.
The article goes on to say that if you happened to be one of the few fast-fingered folk who've already downloaded the patch, um, don't install it, mm'kay?
The current word on MSDN.com is:
The SQL SSIS team has found an issue with SP1 installation if SSIS catalog is present in the SQL Server instance.They are currently investigating this issue including possible workarounds and fixes. We have temporarily put the package download on hold and will provide an update with a solution.
So, there's that.
Happy days,
Jen
http://www.MidnightDBA.com/Jen