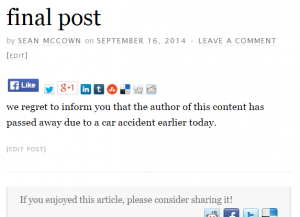 We had an interesting time on Tuesday evening. (Any chef worth his salt knows that interesting usually isn't a good thing.) The interesting part was when Sean's blog reported that he died in a car wreck. Sean was very surprised to hear about this.
My first indication that something was awry was a text from our dear MrDenny, asking if everything was okay. People were worried.
Worried about what? What blog? Oh, hellfire.
First things first: tell Denny, and the dozens of people messaging me on Twitter, that everything's fine, Sean's fine, we're all fine, oh my goodness I'm so sorry for the worry but we're fine. Step two was pulling down the post.
After the anxiety comes the relief, and after that comes the dark humor. We're into dark humor, so we're not going to let this weird almost-crisis, courtesy of your friendly neighborhood hacker, go. Not quite yet.
Here's what we're gonna do
We're throwing Sean a wake this Friday on the webshow. He's pretend-dead, so we may as well pretend-mourn him and pretend-celebrate his life. BYOB.
You? Oh, here's what you need to do, and you don't even have to stay up late, if you don't want to. YOU can call in to our Skype voice mail box – that's 972-815-1DBA. (Remember how to punch in letters for numbers?) So yes, you should call in and say whatever you want said at his wake. Er, his fake-wake. Fake-bake-wake. Wakka wakka wakka.
Call the number. Leave a message. We'll play some of them on the show: DBAs@Midnight episode 7, live this Friday at 11pm.
I suppose if that's too much work, you can leave us a tweet at the hashtag #MCM1up (Get it? 1-up? He's got a whole new life? GET IT??)
Poor taste?
Listen, life is long, and it's also too damn short. Someday one of the two of us is going to be gone, and the one that's left is going to be lost and sad, along with (as it turns out) a whole hell of a lot of friends and well-wishers. While we're all still here, let's have a little fun.