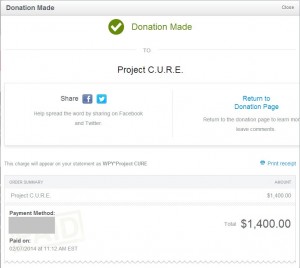 Three months ago, we threw the Classiest Party in Charlotte(tm*), SQL High Tea 2013. Many folks attended, sipped tea daintily with their pinkies out, and enjoyed themselves. Tophats were worn, monocles adjusted. Money was raised.
In fact, due to the generosity of our attendees, several non-attendees, and Pluralsight, we donated $1,400 to Project C.U.R.E. There's really something to be said for tea** with friends for a good cause.
Classy days!
Jen McCown
http://www.MidnightDBA.com/Jen
Thanks so much to our sponsor, Pluralsight!
Pluralsight is a global leader in high-quality online training for hardcore developers and IT professionals. Pluralsight provides flexible and cost-effective subscription plans for individuals and businesses starting from as little as $29 a month. See what you can learn at pluralsight.com.

*Kidding, it's not actually trademarked. Unless you can trademark something just by saying so, in which case, it is.
** (and vulgarities. Allegedly.)