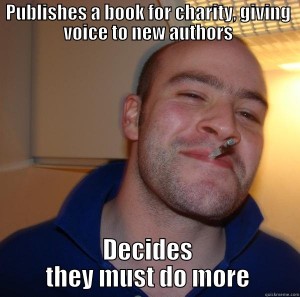 You know what? You're doing a good job. You're reading blogs, and that's generally the sign of a person wanting to learn more about their craft. Well done, you. (And doubly well done for reading my blog, with also shows that you're intelligent, attractive, and many other positive things.)
You should take that positive energy flowing through you right now, and pass it along. Perhaps in the form of an awards nomination!
What awards are you talking about, Jen?
I'm talking about the Tribal Awards, of course!
Just a little background: Earlier this year, MidnightDBA and Redgate Software published a book written and peer edited by new SQL authors, and we called it TribalSQL. The whole idea was about community and new voices (and of course, charity – all the proceeds go to Computers 4 Africa).
Now, Redgate is springboarding off that idea with the Tribal Awards. It's a way to take a look around the community – our Tribe – and point out who's doing cool stuff. And make it possible for those guys to win something.
Oh yes, and there's also the possibility that you'll win an Amazon gift certificate. So you've got that going for you.
Excellent, what do I do now?
…profit?
Happy days,
Jen McCown
http://www.MidnightDBA.com/Jen