Our last Follow Friday blog was two weeks ago, for miss  Lori Edwards.  For those of you not on Twitter, we tweety-folk have little rituals and understandings among ourselves.  One age-old tradition dating back to the time of our forefathers (so, sometime in 2009) is Follow Friday, marked with the hashtag #FF.  Just for funsies, I make our own #FF here in blogland, too.  And this is officially my first #FF about a non-female of the species, so I'm going to say "dude" a lot, and high-five you. *smack*
One Hardworkin' Dude…
Tim Mitchell was born on February 12, 1809, to Thomas Mitchell and Nancy Forks, two farmers, in a one-room log cabin on the 348-acre Sinking Spring Farm, in southeast Hardin County, Kentucky, making him the first SQL Server DBA born in the west. Nono, wait, that's Lincoln. Let me start again.
Today Tim has earned my #FF, for being one hell of a cool, smart, and hardworking dude.  I've been workin with him on SQL Saturday #35 Dallas for the last sixteen years or so (or was it six months?), and I was always impressed. But today he stood out in a longish, well-spoken email to the NTSSUG listserve, gently telling people to lay off the newbies.  This caught my eye:
I'm a member of a lot of technical distribution groups.  Some of these are general groups on Yahoo Groups, others are more specialized, and many are product agnostic (such as one named SQL Queries No Code).  I also subscribe to a few other local lists similar to ours, but in other metro areas.  Through these groups, I get to interact with a lot of different folks – some more different than others   What I've found is that the email discussions on local user group distribution lists tend to be far more responsible and polite than the larger nongeographic lists.  Specific to this discussion, although I must confess some bias, I've never found a public email distribution group that is as well behaved or useful as the NTSSUG group.
Crapmonkeys!  I know a bunch of other stuff Tim does, and he's on all those groups too??  Tim's a Dad, a SQL Server developer/architect/MVP, a BI guy (that's right, he's "Business Intelligence-curious"), a speaker, a PASS volunteer, a NTSSUG board member, SQL Saturday planner,  and a couple dozen other things…he's the Ryan Seacrest of the SQL community!* 
Duuuude, Check it Out
Tim's all over the place online (in addition to the distribution groups listed above):
Way to go, mister "I do everything and still have time for a beer with the guys"…we salute you.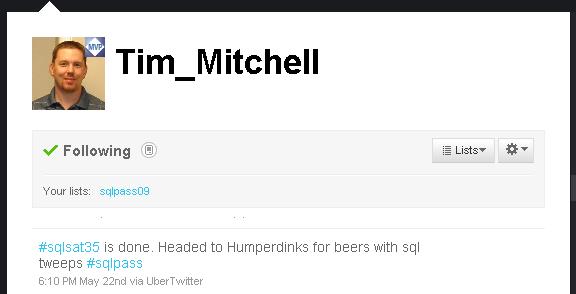 Happy Days,
Jen McCown
http://www.MidnightDBA.com

*My other option was "he's got more irons in the fire than an overcaffinated blacksmith!", but I like the Ryan Seacrest thing better.