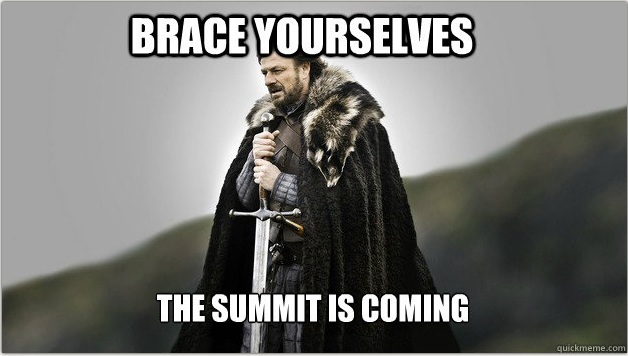 Each year, I like to compile my own shortcut, cheat sheet version of the PASS Summit schedule. I'm not talking about the actual session schedule – we (will) have a perfectly good schedule builder on sqlpass.org, so that's covered. I'm talking about social events, luncheons, keynotes, parties, special days…pretty much everything that's NOT a session or precon. It really helps you plan your week. (Speaking of which, you can find all of my still-relevant, PASS Summit-related advice from last year, here.)
Edit: I wrote this in a time warp, and so will now correct the dates and city. We're in Charlotte this year, Charlotte…
This is a work in progress. I'll add more detail as I get it, and will have this in PDF format before the Summit, so you can carry it around with you, and/or keep it on your smart phone. If you'd like to add something to this, or I've made a mistake, leave me a comment here!
Note: If you can't make the Summit, PASStv will have free live-streaming of technical sessions & keynotes. Look for the schedule on www.sqlpass.org
Links!
---
Before PASS: See the Connect page, and join the First-Timers program (for first-time attendees). Get on Twitter!  On 25-September, see Denny Cherry's Webcast: SQLPASS 2013 First-Timers.  And of course, check back here for more updates, and for this compiled schedule to be converted into a handy-dandy cheat sheet!
Before arrival: You'll probably want to know how to get from here to there, so check out Charlotte's Getting Around page, and check out the SQL Sentry shuttle. (Thanks @Kendra_Little for the links!)
Oh, and since you're here, why don't you have a 15% off coupon code for our DBARoadmap career webinar? That code is Discount15AwwwYeahhh.  Check out DBARoadmap.com for a free sample track, and to order! You know, if you want it.  Now, back to the free stuff…
Monday October 14: Precon Day 1
Tuesday October 15: Precon Day 2
More precons.
8:00 AM The now-famous Pat Wright Photowalk! You just need shoes and a camera, definitely a recommends…

6:00pm – 6:45pm; First-Timers Orientation Meeting

6:30-8:00pm;

Welcome Reception
Wednesday October 16 – Summit Day 1
Thursday October 17 – Summit Day 2
Friday October 18 – Summit Day 3
Happy days,
Jen McCown
MidnightDBA.com/Jen